The problems in credit markets is not any new thing. Its been here for a quiet long time for us to notice that something isn't right. everything is just falling down the hole which is just getting bigger and bigger, and no one exactly knows what is on the bottom. Read this short newsletter from one of the biggest independent financial experts, Porter Stansberry.
Problem with Credit Markets by Porter Stansberry
It may be the most important sign yet that the credit-market problems we've been following are intensifying… and the credit-default cycle we've been predicting has begun.

 As regular readers know, we've been keeping a close eye on the high-yield (or "junk") corporate-bond market.
Junk bonds – as represented by the iShares iBoxx High Yield Corporate Bond Fund (HYG) – have been plunging again. As you can see below, the chart of HYG is concerning…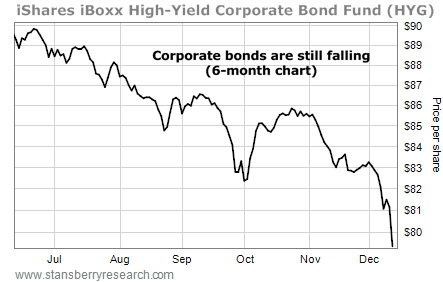 In fact, HYG just hit a new four-year low yesterday. But that doesn't tell the whole story…

 As you likely know, the corporate-bond market is divided into two large tiers by the three big credit-ratings agencies: "investment-grade" debt and "speculative-grade" (junk) debt.
But each of these tiers is divided further, with each company or issuer given a rating based on its relative risk of default.
Standard & Poor's and Fitch rate investment-grade bonds from "AAA" (representing "extremely strong" capacity to service debt) through "BBB-" (representing "adequate" capacity to service debt). High-yield bonds are rated from "BB+" through "D" (representing issuers who have already defaulted). The third big credit-ratings agency – Moody's – uses a slightly different system ("Aaa" through "C"), but the idea is the same.

 In general, exchange-traded funds, like HYG, track the broad junk-bond market… representing the full spectrum of high-yield debt, ranging from the least risky to the most risky.
But if we look at just the riskiest high-yield bonds – those rated "CCC" or lower – we can see just how critical the situation has become…

 While HYG has fallen to four-year lows, the riskiest high-yield debt has already plummeted to six-year lows… levels not seen since the last financial crisis.
Average yields for these bonds have jumped to nearly 17%, compared with "just" 8% for HYG. And as you can see in the following chart, "spreads" – the difference in yield between these bonds and U.S. Treasury securities – are skyrocketing…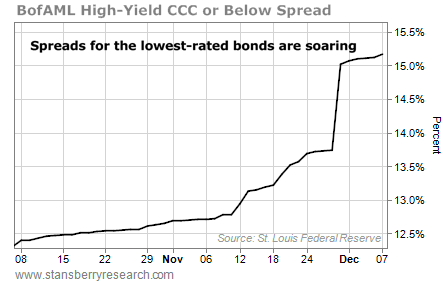 This is important…
Consider this debt the "canary in the coal mine" for the corporate-bond market. These bonds are the most sensitive to problems in the credit markets, and the chart above indicates a severe amount of credit distress in the lowest-ranked bonds.
This is important because credit problems are "contagious." When companies funded with huge amounts of debt go bankrupt, it triggers a chain reaction. Stress can spread from the riskiest debt in unexpected ways. Institutions that would otherwise be sound can end up in default because they've invested in toxic debt.

 And the chain reaction may have already started…
According to Standard & Poor's, the firm's "distress ratio" – the percentage of high-yield bonds trading at distressed levels – has reached 20.1%. This is its highest level since 2009, when it peaked at 23.2%, and suggests the credit-default cycle has begun.
The following graphic (which uses data from Bloomberg) shows how rising credit stress precedes rising defaults…
But credit "contagion" is unlikely to be contained to just the junk-bond market. Many bonds rated "investment grade" today could also be at risk…
There has been an incredible increase in the amount of "BBB" corporate debt outstanding in recent years. As we noted earlier, this is technically investment grade. But it's the lowest tier of investment-grade debt – just one tier above "junk."
According to Jim Grant of the excellent Grant's Interest Rate Observer advisory, BBB-rated debt has grown from 14.4% of the total investment-grade market in 2008 to 30.3% this year. And this was before Bank of America, Citigroup, Goldman Sachs, and Morgan Stanley were downgraded to "BBB" last week.

 This is dangerous because, as a whole, investment-grade debt isn't what it used to be… It's far less resilient to economic risks. It also means that during the next credit-default cycle (which we believe has already begun) far more investment-grade debt will be downgraded to junk.
The following chart shows how many formerly investment-grade companies have already been downgraded to junk – so-called "fallen angels" – through the first eight months of 2015.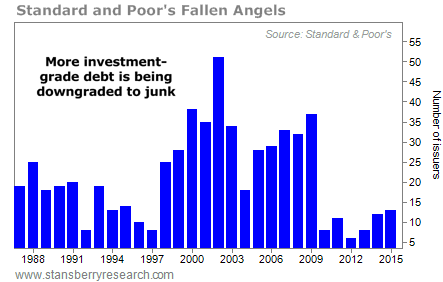 As you can see, we've already reached the highest number since 2009… and we wouldn't be surprised to see a new all-time record before this cycle ends.
This is a massive problem…
Most institutions are not allowed to own junk bonds. Thus, when some (or most) of these bonds eventually are downgraded to junk status during the next cycle, there will be a massive liquidity problem, as there are not nearly enough qualified distressed-debt investors to absorb all of the resulting "forced" selling.

 To make matters worse, this fragile bond market is also the largest bond market we've ever had. The next credit-default cycle will occur in an environment of record levels of U.S. corporate indebtedness, relative to the size of our economy…
From Porter Stanberry's desk, www.stansberryresearch.com
---
Best Investment guide 2015